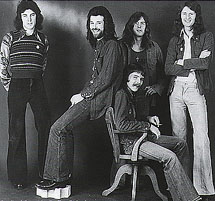 CARAVAN originated in Canterbury in 1968, from a local band that included Robert Wyatt, Kevin Ayers and Hugh Hopper later of Soft Machine. It wasn't until the 1971 album, "In The Land Of The Grey And Pink" that the band achieved a commercial breakthrough.

Around this time, also, there was a definitive line-up change with the addition of John Perry (bass) and Geoff Richardson(viola/violin) joining founders Pye Hastings (guitar,vocals), Dave Sinclair (keyboards)and Richard Coughlan (drums). This line-up featured on the albums "For Girls Who Grow Plump In The Night" (whose controversial original sleeve was hastily withdrawn after complaints from Boots The Chemist amongst others) and Caravan and The New Symphonia, an adventurous blend of rock and classical orchestra.

In 1991 original bassist Richard Sinclair formed "Caravan Of Dreams" with former members of Caravan and Camel.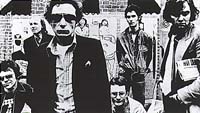 GRAHAM PARKER came to the attention of Dave Robinson who ran a small recording studio within the Hope & Anchor pub in London and went on to found Stiff Records. A backing group was formed with Brinsley Schwarz (guitar/vocals), Bob Andrews (keyboards/vocals), both ex-Brinsley Schwarz , Martin Belmont (guitar/vocals, ex-Ducks Deluxe), Andrew Bodnar (bass) and Steve Goulding (drums)—known as The Rumour.

The first two albums in 1976, "Howlin' Wind" and "Heat Treatment", received critical acclaim and Parker's upfront style and songwriting drew comparisons with US contemporaries Bruce Springsteen and Southside Johnny And The Asbury Jukes. Graham Parker's most successful UK chart album, "The Up Escalator"(1980), marked the end of his partnership with the Rumour.

It wasn't until the album "The Mona Lisa's Sister"(1988 )that Graham Parker provided a dramatic return-to-form and the following year's "Human Soul" featured ex-Rumour bassist Andrew Bodnar and former Elvis Costello sidemen Steve Nieve (keyboards) and Pete Thomas (drums).

In the '90s, Parker has continued to perform to large audiences including solo concerts with acoustic guitar.

Founded "some time in 1980", THE HIGSONS first recording was on the "Norwich - A Fine City" compilation album. Legend has it that John Peel was so amazed that anyone in the Norwich area was making music he invited the band in for a session.

The first single, "I Don't Want To Live With Monkeys" was released in 1981. According to Charlie Higson, "We were often accused of trying to be the English Talking Heads, which we always strenuously denied, but let's face it, that's what we were trying to be." The band's blend of high energy funk and groove brought them some chart success.

The Higsons folded "some time in 1986". Charlie Higson (lead vocals, harmonica, piano) found fame as a comedy writer and actor in "The Fast Show", Terry Edwards (guitar, trumpet, sax,piano,vocals) now fronts his own band and is a prolific session player, Simon Charterton (drums, vocals) is in Camden based "The Aftershave". Stuart McGeachin (guitar,vocals) and Colin Williams (bass, vocals) have now got proper jobs.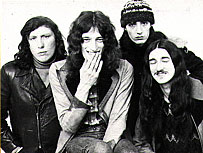 Formed in 1969 the original ATOMIC ROOSTER line-up comprised Vincent Crane, organ, Nick Graham, bass and Carl Palmer, drums. Crane and Palmer had been key members of chart-topping "The Crazy World Of Arthur Brown" and Crane wrote the 1968 hit "Fire". Carl Palmer then joined Emerson, Lake & Palmer and Crane recruited new members John DuCann, guitar/vocals and Paul Hammond, drums. This line-up produced two UK hit singles in 1971: "Tomorrow Night" and "Devil's Answer" which typified their dark, riffy progressive rock leanings.

DuCann and Hammond then joined Bullet, later Hard Stuff, and Crane recruited new members, guitarist Steve Bolton, and drummer Rick Parnell (son of the orchestra leader, Jack Parnell). The new line-up was completed by bassist Bill Smith and singer Chris Farlowe who had a top-charting single in 1966 with "Out Of Time". However, this line-up only lasted until 1974 when Crane dissolved the band.

Vincent Crane - who had suffered bouts of depression for many years - attempted to revive Rooster in the late seventies but in 1989 he took his own life.