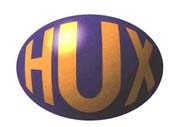 Welcome to Hux Records
Since our launch in 1998, we have built an enviable reputation as specialists in releasing classic archive recordings. All of our titles include material which has never been available on CD before now. In fact, most Hux recordings have never been available before in any form.
Several albums are comprised of previously unreleased BBC recordings (such as Peel Sessions & Radio 1 Concerts). We have reissued many classic albums and added bonus tracks where available.
We work directly with each featured artist wherever possible and they often assist with the studio mastering, artwork and packaging.
Our CD booklets include informative liner notes, full recording details and artist photographs.
COPYRIGHT NOTICE: All material, including biographies, text and audio clips, is the property of Hux Records Ltd., and must not be reproduced without permission. All rights reserved.