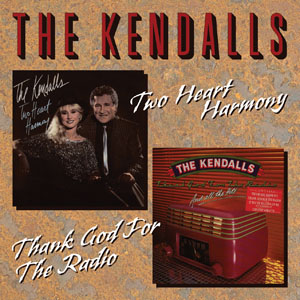 The father and daughter duo of THE KENDALLS created a perfect blend of traditional and contemporary Country music, sparked by Jeannie' s soaring, sensuous vocals. Her voice, a high lonesome honky-tonk, has a beautiful range that drips pure emotion.

The time is now ripe for the rediscovery of The Kendalls' distinctive sound, with the reissue of these two albums.

Jeannie' s voice is given full-throttle on such classic cheating songs as 'Teach Me To Cheat' and the sensual 'Take Me To Heaven (Before You Take Me Home)'. There' s a fine revival of the country-soul classic 'The Dark End Of the Street', full of dark irony, heartache and winsome charm. And they take a positive stab at Arthur Crudup' s 'My Baby Left Me', which is quite different to the Elvis Presley version. And Merle Haggard' s 'Somewhere Between' turns out to be a perfect fit for Jeannie' s voice.

These long forgotten and often overlooked recordings are a stellar example of pure true-to-the-roots country music.

These two LPs, originally released in 1985, have now been re-mastered and are reissued here together on CD for the first time.


HUX131
---