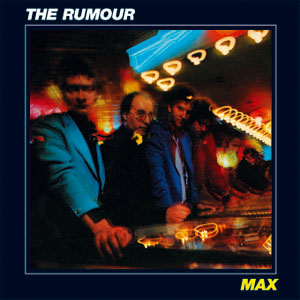 When The Rumour formed in 1975, they were looked on as a type of 'Pub Rock Supergroup', as they featured several veterans from that scene. Bob Andrews (keyboards/vocals) and Brinsley Schwarz (guitar/vocals) were previously with the legendary band, Brinsley Schwarz. Martin Belmont (guitar/vocals) came from Ducks Deluxe, and Steve Goulding (drums/vocals) and Andrew Bodnar (bass) from Bontemps Roulez.

Though perhaps best remembered as the backing band for Graham Parker during his late '70s heyday, The Rumour actually released 3 albums under their own name, between 1977 & 1980. They also worked extensively as a house band for Stiff Records, and backed Elvis Costello on 'Watching the Detectives'.

The Rumour's debut album, MAX, produced by Mutt Lange, is now reissued here on CD for the first time. The band's loose, jamming style flits comfortably between roots rock, country, pop & reggae and the album still sounds incredibly fresh today, 30 years after it was recorded.

Included amongst the original titles are a few cover songs, including Nick Lowe's 'Mess With Love' (a song he wouldn't get around to recording himself until his 1982 'Abominable Showman' LP) and Duke Ellington's 'Do Nothing Till You Hear From Me'.

This album has now been digitally re-mastered. The accompanying CD booklet features the original LP artwork and includes liner notes by The Rumour's Steve Goulding, plus rare photographs from the band's own archive and full lyrics to every track.
Trivia spot: The title of this 1977 album was the band's punning response to Fleetwood Mac's mega-selling LP of the same year.

HUX093
---
Mess With Love
---