2003 Releases
---

SOFT MACHINE BBC Radio 1971-1974 2-CD (HUX047)
[Release date 29 September 2003]

Following the successful release earlier this year of HUX037, this second volume now completes the set of Soft Machine's BBC sessions.

Recorded between 1971 & 1974, this double CD includes 3 Peel sessions, plus one session recorded for BBC Radio 3's Jazz In Britain' programme. With the exception of the first two tracks here, none of these recordings have ever been released before.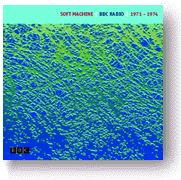 ---

GREASE BAND Grease Band plus BBC Session bonus tracks (HUX045) [Release date 29 September 2003]

In 1966, Joe Cocker recruited his backing group and christened them the Grease Band. When Cocker went on to his solo career, the band kept the name and recorded their debut album in 1971.

This was a wonderfully atmospheric record, marrying acoustic and electric instruments and styles - country, blues, soul, folk and R&B - and was likened by many critics at the time as a British 'Music from Big Pink'.

This album is now reissued on CD for the first time and is rounded off by a BBC session from April '71, which includes a bonus unreleased Henry McCullough number, 'Believe In What You Believe In'.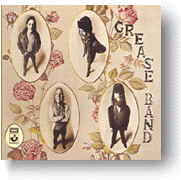 ---

GENE VINCENT White Lightning HUX042
[Release date 29 September 2003]

Gene Vincent may have had only had one really big hit, 'Be-Bop-a-Lula', but his place as one of the great early rock & roll singers is secure, due to a wealth of fine recordings that rate among the best rockabilly of all time. The leather-clad, limping, greasy-haired singer was also one of rock's original bad boys.

In 1970 he staged a comeback and released a new album, 'I'm Back And I'm proud', on the Dandelion Records label.

The first 12 tracks on this CD are taken from this record. The four bonus tracks were recorded for Johnnie Walker's Radio 1 programme the following year. Gene tragically died a few days after recording this session, aged just 36.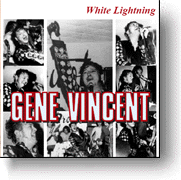 ---

ELTON DEAN'S NINESENSE Live At The BBC HUXO46
[Release date 29 September 2003]

British saxophonist Elton Dean has long been the spearhead of free jazz in England. He began his professional career with Long John Baldry's Bluesology (*) in 1967, then went on to help form the Keith Tippett sextet before becoming a key member of Soft Machine in 1969.

In the mid 70s he formed 'Ninesense', one of the most influential cutting-edge jazz bands of the period. The original line-up of the band included the great trumpeter, Mongezi Feza, one of the South African exiles who came to London as a member of Chris McGregor¹s Blue Notes.

This album is comprised of two sessions recorded by BBC Radio 3's Jazz In Britain programme and contains the first recording of the band, as well as almost the last. It has a total running time of 55 minutes and the accompanying 8 page booklet features a brief note from Elton Dean, plus extensive liner notes by The Times' jazz critic, Alyn Shipton.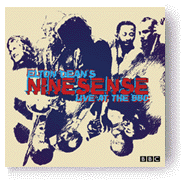 ---

BILLIE JO SPEARS Mr Walker, It's All Over/Just Singin' HUXO44 [Release date 29 September 2003]

Billie Jo Spears achieved several big country hits during the '70s (including 'Blanket On The Ground' & 'What I've Got In Mind') thanks to a sultry, bluesy voice that made her a perfect torch balladeer.

She also enjoyed great success in the States with songs like 'Mr. Walker, It's All Over', which gave her a Billboard #4 hit and is now now revived in this packaging of her two early LPs. These two albums (originally released in 1969 & 1972) represent the birth of Billie Jo's career. Both titles have been digitally remastered and are now released on CD for the first time.

The accompanying 8 page booklet features extensive liner notes, including the sleeve notes from the original LPs, and rare photographs.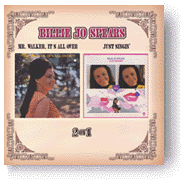 ---

MICK SOFTLEY Songs For Swingin' Survivors HUXO43
[Release date 29 September 2003]

Songs for Swingin' Survivors was first released in autumn 1965. It was never subsequently reissued and original vinyl copies now fetch upwards of £100 on e-bay.

This debut is also notable as one of the first UK singer/songwriter folk albums in the contemporary style pioneered earlier in the U.S. by Bob Dylan.

Comparisons with early period Donovan are also perhaps inevitable. Donovan cited Mick Softley as a major influence and Softley actually wrote a few songs which were covered by Donovan. Notably 'The War Drags On', which Donovan included on his 'Universal Soldier' EP, and which is featured here in its original version.

The accompanying 8 page booklet features extensive liner notes, including Mick Softley's own note from the original LP, and rare photographs.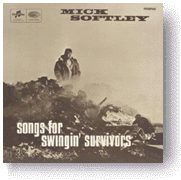 ---

GAY & TERRY WOODS Lake Songs From Red Waters - The Best Of HUXO40 [Release date 18 August 2003]

As co-founders of Steeleye Span, Gay & Terry Woods were pivotal figures in the Irish folk scene of the late 60s. During this period, they also recorded and toured with Sweeney's Men & Dr Strangely Strange.

Between '74 & '76, they recorded three albums for Polydor Records. 'Lake Songs From Red Waters' was compiled with the help of Gay & Terry and features their personal favourites from this period.
---

GRYPHON Glastonbury Carol HUXO41 [Release date 18 August 2003]

Gryphon were formed in 1971 and had a style which made them unique on the UK rock scene of the early 70s, with their Crumhorn solos making a refreshing change from the usual guitar sound of the day.

This album was compiled with full assistance from the band and features their two BBC Radio 1 sessions, recorded in 1972 & 1974. Also included here is their single, 'Glastonbury Carol', which was originally commissioned for the closing titles of the film, 'Glastonbury Fayre'. The master tapes to this track had been missing for the past 30 years and were only unearthed recently.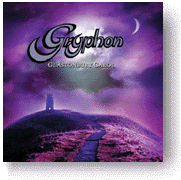 ---

WRECKLESS ERIC Almost A Jubilee 25 Years At The BBC (with gaps) HUX039
Featuring the Len Bright Combo, Hitsville House Band & Southern Domestic [Released 28.04.03]

Wreckless Eric recorded his first Peel session in 1977, when his band included Ian Dury on drums and Davey Payne on sax. 25 years later, Eric made a solo, acoustic appearance live on the Jonathan Ross show on Radio 2.

This album features both of these performances, plus the best of Eric's BBC sessions recorded in between. That includes a second appearance on the Peel show, plus sessions recorded for the Saturday Live programme, Mark Radcliffe & Andy Kershaw's Radio 3 show.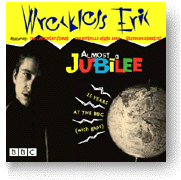 ---

NUCLEUS The Pretty Redhead Live At The BBC 1971 & 1982 HUXO38 [Released 28.04.03]

The doyen of British jazz-rock groups, Nucleus was formed in 1969 by trumpeter Ian Carr. He was joined by Chris Spedding, John Marshall and Karl Jenkins. (The latter two went on to join Soft Machine a few years later.)

The release of these BBC recordings shows both the original line-up and a much later edition of the band playing at their fiery best for a radio audience. All in all, a delight for Nucleus buffs, and a fine introduction to the band¹s work for newcomers.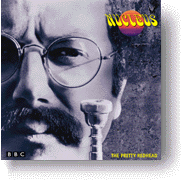 ---

SOFT MACHINE BBC Radio 1967-1971 HUXO37 2-CD
[Released 31.03.03]

Soft Machine's complete BBC sessions will finally see the light of day this year.

They will be released across two Hux albums, which have both been compiled with the help of the band, who have been fully involved at every stage of development.

Volume 2 (Peel Sessions 1971-1973) will follow later this year.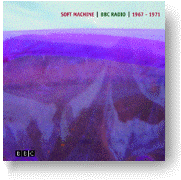 ---