SOFT MACHINE & HEAVY FRIENDS BBC In Concert 1971 (HUX067) [Release date 25.07.05]

This is a live session recorded for the BBC at London's Paris Theatre
on March 11th 1971. John Peel introduced the concert as being by
"Soft Machine and Heavy Friends".

This is a unique recording in that, for this BBC session, the band augmented
and fragmented and performed with other great jazz musicians, including
Ronnie Scott on tenor sax.

The accompanying 12 page colour booklet includes brief notes from Robert Wyatt, Hugh Hopper and Elton Dean, who all recall their own memories of this recording. Also featured in the booklet are further extensive liner notes and band photographs.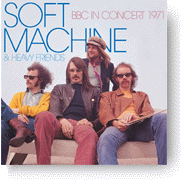 HERON Black Dog (HUX066) [Release date 12.07.05]


Heron originally formed in England in 1968 and have since been described in the pages of Mojo magazine as one of the most collectable bands around, with their original vinyl albums now fetching upwards of £150.

Thirty years after their original formation, Heron recorded this new album in the village of Black Dog in Devon, England. As keyboardist Steve Jones put it, "reliving our past but bringing it up to date". The band has retained its unmistakably English sound and the songs are as unique as ever; still as relevant today as they were 30 years ago.

This new album has a booklet which includes a full history of the band, along with profiles and photographs.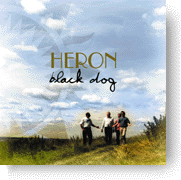 THE VIOLENT FEMMES BBC Live (HUX065) [Release date 13.06.05]

The Violent Femmes formed in 1981 in Milwaukee. The following year, they supported The Pretenders on tour, after Chrissie Hynde & James Honeyman Scott had 'discovered' them busking in the local streets.

The trio then released their eponymous debut LP - a masterpiece of minimal, mostly acoustic, Americana which borrowed from influences as diverse as 50s rock'n'roll, doo-wop, gospel, old-time folk music, The Velvet Underground and punk. That album eventually went on to achieve platinum status.

By 1991, their 10th anniversary, the Femmes had five successful studio albums and a 'best of' compilation under their belt. During the summer of '91, the band played a sell-out tour of the UK including one show at London's Town & Country Club. That concert was recorded by the BBC and is now released here for the first time.

This CD, which includes a great version of their classic anthem 'Blister In The Sun', captures the essence of the band live, and the powerful relationship with its audience.

The accompanying 12 page booklet includes comprehensive liner notes, rare photographs and full recording details.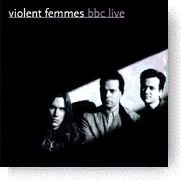 DEKE LEONARD'S ICEBERG Wireless (HUX064)[Release date 28.03.05]
Deke Leonard first came to prominence as the lead guitarist in the legendary
Welsh group, Man. He is now into his 4th decade of touring and recording.

During the mid 70s, between stints with Man, Deke formed his own band, Iceberg. They toured extensively throughout Europe and the UK and released two albums; 'Iceberg' and 'Kamikaze'.

Wireless' is a compilation of three radio sessions recorded by this band between 1972 & '74. The first two sessions (tracks 1-7) were recorded in Europe. The third session (tracks 8-11) was recorded for John Peel's Radio 1 show.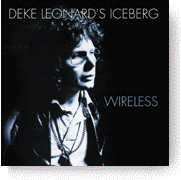 ELTON DEAN & SOPHIA DOMANCICH Avant (HUX063)
[Release date 28.03.05]
Former Soft Machine sax-man Elton Dean began his professional career with Long John Baldry's Bluesology in 1967. He later helped to form the Keith Tippett sextet before going on to play a crucial role in Soft Machine between 1969 &1972.

The French pianist Sophia Domancich has worked with Elton on and off over the past 20 years. During this time, she has become closely associated with the Canterbury scene and has played with most of the key figures of the genre, including Pip Pyle, Hugh Hopper, Richard Sinclair, Phil Miller & Didier Malherbe.

'Avant' features a recording of a live concert which the duo performed in France last year. This fully improvised show was the first time they had ever performed as a duo.